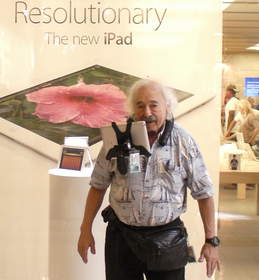 If you could see things the way we do…
Shooting POV video is tough, especially in complicated environments where you need to have both hands available.  The ever-creative inventor, George Margolin who is known for tech products for Hollywood's photo and movie biz has a solution.  In the photo at the left he models his latest invention, the SteadySnake(tm) NeckPod photo brace.  It has a bracket for the iPad, your camera or smart device and away you go, even in the most crowded situations like the upcoming International CES trade show January 2014 in Las Vegas.
George gave us a preview of the SteadySnake a year ago and was quick to say that this is not the only way you can use the SteadySnake as he changed its shape (much the way an artist twists a balloon) but not into a poodle or flower, but into a monopod that lets you shoot high or low without risking your back or knees.
Good idea, George.  We just returned from a trip where tourists were walking awkwardly, shooting video of monuments and attractions with an iPad in front of their faces with both hands, sometimes edging awfully close to fountains and curbs and possible disaster.
Oh and there is the couch-potato application as well.  Anyone who has read an eBook at length on an iPad will agree that the darn thing gets a bit heavy after a while. Slip it into the SteadySnake and you are free to use your hands to raise your margarita glass and dip your chips into the guacamole.
The SteadySnake Neck-Pod accommodates point and shoot DSLRs and video cameras, under three pounds.  Cost is $79.95. An adapter for the iPad brings the total up to $94.94.  An adapter for the iPad mini is $19.99.
Check out www.steadysnake.com for where you can buy it and watch the video demo here.